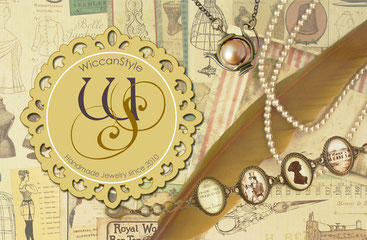 With the new design of the website now almost finished, I have turned my attention to the new business cards. Their design now finally matches that of my online store and although it took some time getting the perfect photos, I am really pleased the result.
The printed version looks slightly more yellowish, which I find works really well in fact. Again the colour scheme works much better with my bronze coloured, vintage style jewelry I find.
The WiccanStyle Logo, which you can see on the business card, as well as on the store header, is actually the exact shape of some of the round pendant necklaces I have for sale and also hope to use for more necklaces in the near future.
---