During one of my first visits to Bath, Somerset, I fell in love with a portrait of Jane Austen which was drawn by her sister Cassandra. It shows Jane from behind, sitting by a tree and gazing out upon the open landscape. I loved the blue colour of her dress and bonnet and the way she was presented in this picture. It's far from a classic author's portrait and perhaps that's why I like it. I would like to imagine her sitting in just such a pose whilst writing her novels -  a very romantic notion to be sure.

The Jane Austen Centre in Bath had this very portrait as a cross stitch design, which I bought back in 2006 and completed work on about a year later.
I wanted to frame it, but somehow never got around to it. Years later, when I started working on a Jane Austen necklace, I remembered that Portrait and turned into a necklace, using her own handwriting as a backdrop for the image.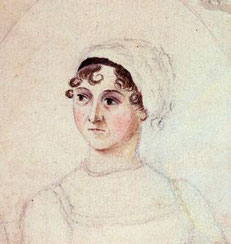 The perhaps better known portrait is a sketch her sister Cassandra took of her, showing her facial features. Although sadly never finished, this image was later on used to draw an idealized portrait of Jane after her death.  It has since become well known and I have started working on a new necklace using this image, which you can see below.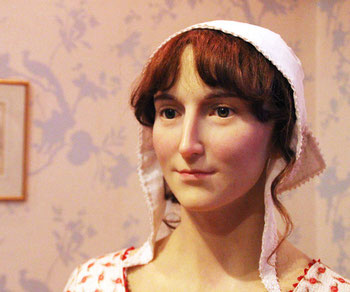 Revisiting the Jane Austen Centre this past June, I saw a wax figure of Jane, which has recently been made, using  newest information and technology. It is said to be the most accurate display of what she really looked like. Gazing at this figure, I finally got to look into the face of Jane Austen. A truly unique experience for any fan!

---
Jane Austen Necklaces